Repost from REFINERY29
Written by: Jinnie Lee 
Published July 18th, 2022 
If you have sensitive eyes, you know how frustrating it can be to apply and maintain eye makeup. (I've weathered my fair share of eye-related issues, including post-Lasik dryness, light sensitivity, and lazy eyes with residual astigmatism.) Any number of products — such as
 mascara, eyeliner, or eyeshadow 
— are also simply not ideal to have on all day if you're keen on optimal eye health. And that's before you factor in the potential irritation or stinging when the product gets too close to your lash line. So when vegan eye makeup brand
Chella
reached out about its "moisturizing and buildable" mascara formulated with gentle ingredients, such as hemp seed extract, argan oil, and Vitamins E and C, I had to give it a whirl and twirl on the ol' sensitivo lashes. (Psst — the brand is also offering
20% off all its mascaras and eyeshadows with the promo code

 VEGAN20 
at checkout through September 30, 2022.
The mascara, named
Good Drama
is not only designed to lengthen and volumize (like all good mascaras ought to do), but it also nourishes lashes, which is ideal since I use eye drops all day, which generally tend to brittle up lashes and cause flaking. The mascara's formula is so mild that, even if my lashes get wet and some of the product makes its way into my eyes, it never really interferes with or irritates my eyes (at least not to a point where I have to remove the mascara earlier than I anticipate). Perhaps the biggest difference I experience while using Chella, which I don't find with other mascara brands, is that Good Drama doesn't clump or dry out the more I want to build and maximize. In other words, the days of tarantula eyes are over.
A key secret to Good Drama's success is the application brush, which is sleek and comb-like all the way around (as opposed to bushy and bristly). Essentially, this type of brush easily and gently separates lashes as you apply mascara upwards from the root to the tip. My fave method is to get as close to the lash line as possible and wiggle the wand as I distribute the product onto my lashes. I appreciate that the brush doesn't ever get overwhelmingly clumpy or goopy, which means a more even and cleaner stroke every time. And, on the occasion I do get mascara in a part of my eye I don't mean to, it's not at all painful or a hassle to gently clean up with a Q-tip.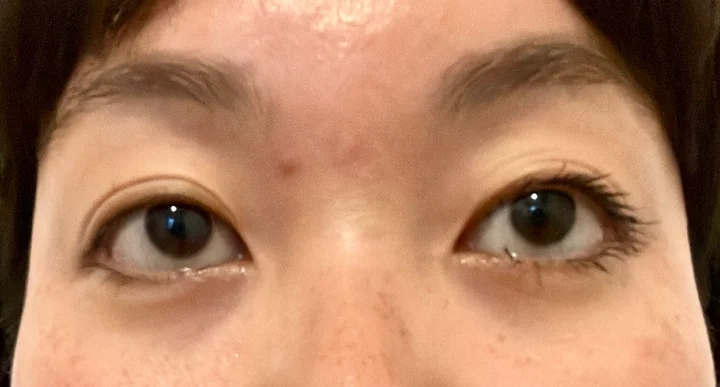 The most challenging part of using this product is getting it off at the end of the day — which, if you're an everyday mascara user, you already know the woes of. Even though the mascara itself might be harmless and gentle, the removal products or cleansers I need to use are always harsher. That said, I haven't quite found a solid mascara removal routine yet (that won't irritate my eyes at least a little bit), but at the moment, I'm using a blend of an oil-based cleanser, micellar water, and petroleum jelly to break up the mascara at nighttime. All in all, though, the mascara keeps its promise on long and luscious lashes (please refer to the photo above for proof) without the use of any sus ingredients. If you, too, would like to give Chella's highly rated mascara a go — Good Drama currently has a rating of 4.2 out of 5 stars — the brand is offering
20% off all its mascaras and eyeshadows with the promo code

 VEGAN20
at checkout through September 30, 2022. Now that's something to bat an eyelash at!